How does Griswold Law address nuisance properties?
Griswold Law was appointed by the Shasta County Superior Court of California over the Americana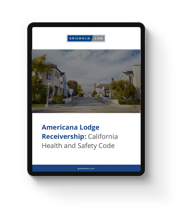 Lodge.
Download the case study to learn the details, including:
What caused the 59-year-old motel to become a concern in the City of Redding?
What role does a court-appointed Health & Safety Receiver play in remedying a dangerous property?
How was the Americana Lodge improved by Griswold Law's performance?